EMMA Lab and Research
We have brought two research traditions together to study how perception relates to comprehension in reading. Eye movement research has for a century been used to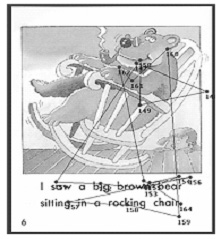 understand how perception in reading provides the brain with sensory input. Miscue analysis, with over 40 years of history, provides a "window on the reading process" and reveals the knowledge and strategies readers use as they comprehend written texts. By a close examination of the relationships of the expected and observed responses (miscues) in oral reading we get strong insights into the reader's process of making sense of written language.
We call the merged research methodology Eye Movement and Miscue Analysis (EMMA). By tracking eye movements of readers while we record their oral reading, we produce a powerful database for the study of readers' construction of meaning. The data is both a continuous record of the eye fixations and movements over an entire text and a continuous record of the oral reading of that text and the miscues readers produce.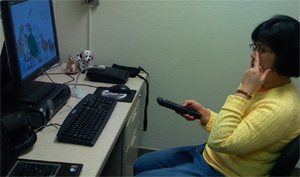 Research in progress focuses on
Varied ages and languages: Elementary school readers, adolescent readers, adult readers, Chinese readers, Japanese readers, Russian readers, Bilingual Spanish-English readers, Bilingual French-English readers and speakers of other languages, EMMA in sight singing (MEMMA).
Varied materials and other features: illustrated texts, multiple genre text, nonfiction, The Boat in the Basement, musical notation, effect of font size on EMMA readings, perceptual units, Retrospective Eye Movement and Miscue Analysis (REMMA).
Support for LRC Courses and Professional Development
Demonstrations for and involvement of LRC students and faculty at request.
Main Items in the EMMA Lab
Model 504 Eye tracker, pan/tilt eye camera, eye camera remote control, *Micron computers and flat screen monitor, speakers, specialty monitors, microphone connected to audio tape recorder, *HP laser Jet 3100 fax/printer/copier/scanner, *Toshiba VCR. (*Supplied by the Goodmans).